What is changing?
Starting November 1, 2023, Kanopy is switching from a set number of borrows per month to "tickets."  
You will receive 15 tickets each calendar month. Borrowing a video in Kanopy will use between 1–5 tickets, depending on runtime and studios. Some videos will also have extended viewing periods.
How many tickets will a video use?
Most movies: 2 tickets
Major studio movies: 4 tickets
Shorts (runtime of 30 mins or less): 1 ticket
Episodic content, including the Great Courses*: varies based on total runtime

2 hours or less: 2 tickets
2–4 hours: 3 tickets
4–6 hours: 4 tickets
6+ hours: 5 tickets

Kanopy Kids: 0 tickets
*Note: if you are an avid viewer of the Great Courses, you might want to check out a Binge Pass in hoopla. A hoopla Binge Pass gives you 7 days of unlimited access to hundreds of the most popular Great Courses. One Binge Pass uses one of your 4 hoopla checkouts per month, and doesn't use any of your Kanopy tickets.  
How will I know how many tickets a video uses?
Information about the ticket cost and viewing period can be found next to the play button.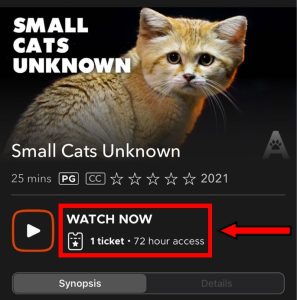 Where can I get more help?